A complete guide on how to fix iTunes Error 9006 while updating/restoring your iPhone/iPad with help of iTunes on Windows/Mac.
I have recently seen many on twitter stating that they facing error "there was a problem downloading the software for the iPhone an unknown error occurred (9006)" while updating or restoring their iPhone/iPad. Are you the one facing same issue? Don't worry here's a complete guide on how to fix iTunes error 9006 on your iPhone/iPad while updating or restoring it.
First let me explain the possible causes behind the error code 9006. If you are able to find the correct reason behind iTunes 9006 error, It will be easy for you to take action accordingly. Keep in mind that the fix should be according the cause behind it. You need to know it first.
Probably your older version of iTunes causes the problem.
You might be using faulty USB cable which prevent the connection between your Computer and Apple device.
Your computer/Laptop's USB port might got damaged so that the connection between computer and iPhone/iPad got interrupted which will always results on iTunes error 9006 on your iPhone 7, iPhone6.
If your iTunes is unable to contact Apple servers (The probable reason might be Windows/Mac's firewall or anti-virus blocks iTunes from connecting to Apple servers.)
Here are the some of the example from twitter.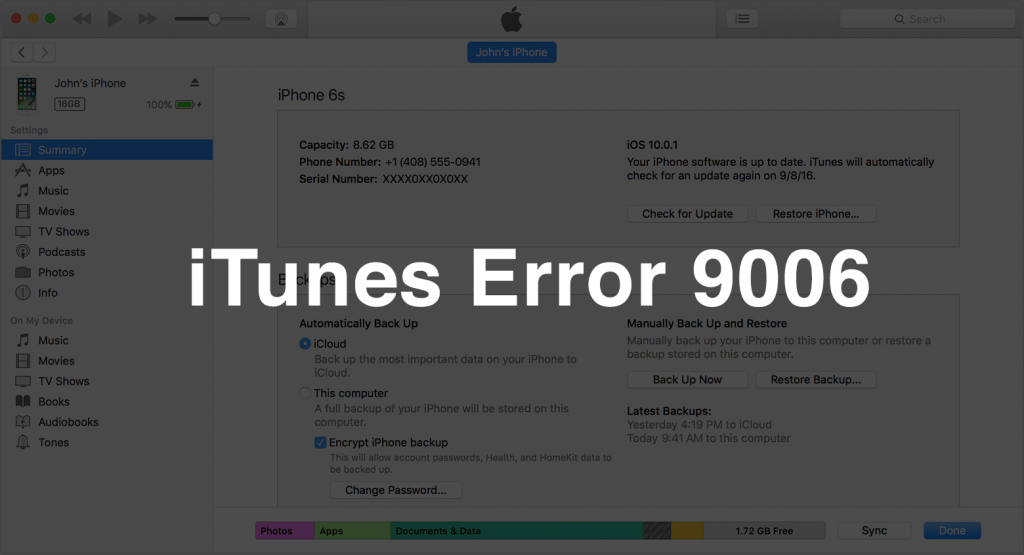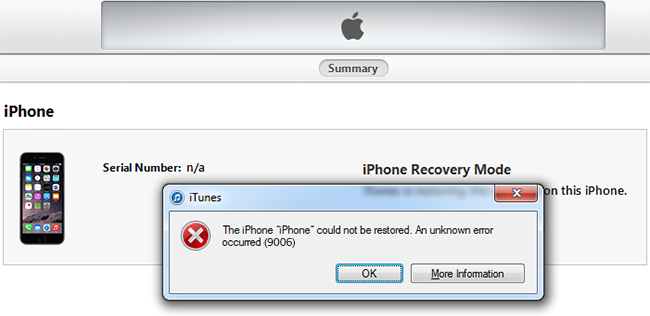 Now lets go though the step by step procedure to fix the iPhone 9006 error.
How to Fix iTunes Error 9006 While Updating/Restoring iPhone/iPad:
Before going to through the process, make sure that you have proper internet connection.
First step is to update your iTunes to latest version. If you don't know how to do that follow the steps given below.

Open iTunes.
Click on Help (Windows) or iTunes (Mac OSX).
Click on Check for Updates. If there is an update, It will show up automatically. Simply Click Install.
Agree to the terms and conditions and click install and wait for few seconds to download iTunes completely.
After completion of download, it will be updated automatically.
Turn off your PC's firewall and Anti-virus temporarily.
Now restart your iPhone and computer.
Now try to connect your iPhone/iPad to your Windows/Mac PC using different USB cable as well as to different USB port to fix iPhone error 9006.
Try to restore your iPhone or iPad now. If the problem still persist, we have another alternative and direct method for you.
You can also check out: How to Delete iCloud account permanently.
A Simple Way to Get rid of iTunes Error 9006 on iPhone 7, iPhone 6, iPhone 5/4:
In this method, we will manually update/restore iPhone using IPSW files. Its very simple and straight forward. Go though the steps give below.
Download the latest version of IPSW file for your iPhone/iPad from https://ipsw.me/
Now launch iTunes on your Computer and connect your iDevice to computer.
Select your iPhone/iPad on iTunes from the drop down menu on the the top right corner.
Summary page will appear on iTunes. You can find both Update and Restore options over there.
To restore/update your device, follow the steps given below according to your device

For Windows, Hold Shift and click restore/update.
For Mac, Hold Option+Command Key and click restore/update.

Now file browsing window will open. Navigate to the directory where you have downloaded IPSW file and select it.
It will sure restore your iOS device.
Hope this guide helped you to fix iTunes error 9006 on your iPhone 7 Plus, iPhone 7, iPhone 6S, iPhone 6 and iPad devices. If the problem still persists, feel free to comment below with full details regarding iPhone 9006 error so that we can help you to get rid of it.