Here's a complete guide on how to download and install Napster++ IPA for iPhone/iPad running on iOS 11/10/9 Without jailbreak and without computer.
Napster is a music store offering services on variuos platforms like Android, iOS, and PC devices. It was formly known as Rhapsody. This app offers subscription based music services. It will cost you 9.99$/month to listen to and download songs and music from this application. Napster also offers 30 days free trial which can be cancelled at any time. Though
Many people want to try out Napster for free without giving credit card details. Some of the music lovers want to enjoy it for free for life time. In this case, Napster++ comes into picture. This app allow you to get all Napster premium features for free that too by passing payment details. You just need a Napster free account to use this application. You can also try out Deezer++ IPA to get unlimited mudic for free.
Note: If you want to install this app without any difficulty, you need to delete the original Napster app. So be sure to delete to original app to enjoy this +Plus app.
Without wasting much time, lets get into procedure for how to install this application for free on your iOS device.
Download & Install Napster++ for iOS (iPhone/ipad) Without Jailbreak:
There acually two methods by which you can get this app on your iDevices. Both menthods won't require jailbreaking but second one need a computer.
Important note: If you have a Napster original app on your iPhone/iPad, please delete it first and them try to install Napster++ iOS app.
First of all, Open safari browser and go to tutuapp.vip and tap regular option.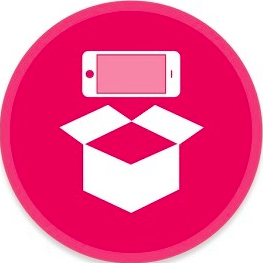 You can find the download option high lighted in the green colour. Just tap on it to start download the app.
It will finish the installation soon depending on your internet connection.
Now navigate to Settings> General > Profile & Device management. Find the profile for tutuapp and trust it.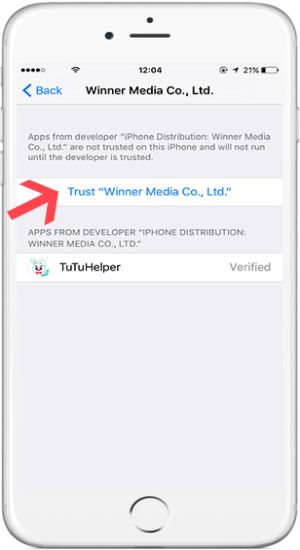 Open the tutuapp and search for Napster++ app in the search bar.
Simply tap on the Get option beside app.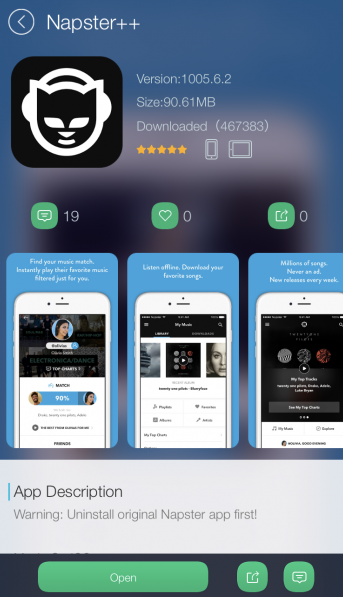 A small prompt appear on the screen. Simply tap on install option. The application will be downloaded and installed automatically.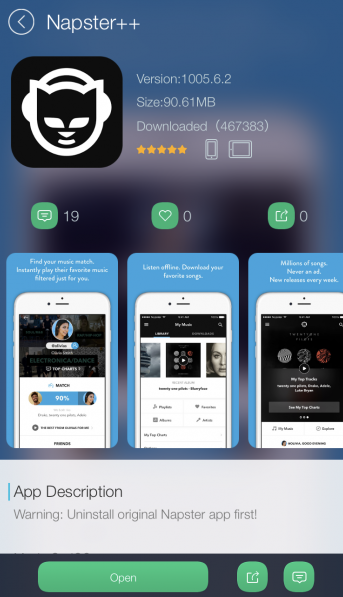 Now get back to your device menu where in you can find Napster ++ iOS app. Open the app.
Login with free account (If you don't have an account create one) credentials and enjoy free music.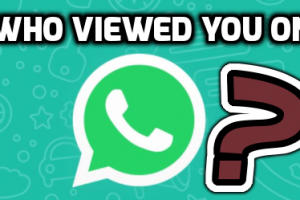 Alternative method-
How to premium Napster for free using Napster++ IPA:
Open any browser on your PC and go to cydiaimpactor.com
Now download the latest version of Cydia impactor according to your device compatibility from the website given above.
Download the latest version of Naster++ IPA from this link.
Now connect your iDevice with PC and open Cydia impactor tool.
Just wait for a second or two to let Cydia imactor to recognise your iPhone/iPad.
Now navigate to the directory where IPA file located and drag and drop the IPA file onto Cydia impactor tool.
It will automatically ask you for your Apple ID and Password. Simply enter them and wait for few seconds.
Now you can observe Napster++ app on your iPhone/iPad's device menu.
Open the app and keep enjoy music for free.
Some times you may end up with Unstrusted enterprise developer error. Here's a tutorial on how to fix it.
You can also download Napster ++ application from Apps4iPhone iOS app store which offers all latest tweaks and ++apps for free.
I hope, this tutorial helped you get free music using Napster++ iOS app on your iPhone/iPad without jailbreak. Don't hesitate to though a comment if you want to add something to this post or you faced any issue with this app.